On Tue, Jan 28, 2014 at 2:33 PM, Gayle Sulik, author of Pink Ribbon Blues <pinkribbonblues@gmail.com> sent me her book review from her website. (Thanx, Gail.)
---
A Breast Cancer Alphabet by Madhulika Sikka
Posted: 27 Jan 2014 02:34 PM PST on www.pinkribbonblues.com
A Breast Cancer Alphabet (soon to be released) is straight-forward, concise, and honest book by news executive Madhulika Sikka that breathes new life into a breast cancer world too often drowning in symbolism, cliche, and product placement. The short (2- to 5-page) entries offer 26 personal reflections — from A ("anxiety") to Zzzz's (meaning, "sleep") — that speak to the contours of her diagnosis and treatment for breast cancer, uncertainty amid mountains of information, and how none of the signposts in Cancerland really prepares anyone for the trip. Each letter shares a glimpse of how Sikka made sense of, and navigated, her breast cancer but also opens a new conversation about one of the most talked about, venerated, and commercialized diseases in American culture.
I learned something from each letter of Madhulika Sikka's alphabet. I share a few of her letters and the words they stand for (excerpted directly from the book or summarized in my own words.)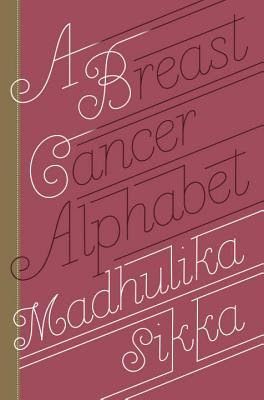 Anxiety, different from fear or worry or concern, is often triggered by the anticipation of future events. And all you can anticipate is bad. Anxiety is a cancer companion, attached to you, sometimes in the background, sometimes front and center, but always there. The good news is that reality is never as dark as the places an anxious mind can take you.
Cancerland: One minute you're minding your own business, living your humdrum life, and the next you're thrust into this strange land of surgeries, and drugs and side effects, and pain and anxiety…a mysterious trip. You received no notice, no clear map, and no schedule. You don't know when it is going to end. It's like walking through the wardrobe and entering a secret society.
Hair has occupied an inflated place in women's lives since we were little girls, out of proportion to so much other stuff. How many hours of your life have you spent on your hair? But what happens to hair is important. There were times when I was up in the middle of the night and saw a scary thing in the mirror: a bald me with no eyebrows and sallow skin and a face so puffed up from steroids that I looked like a billiard ball or Nosferatu. The hair thing is a BIG DEAL.
Indignity. If you are aware of the breast cancer culture that built up over the last two decades, you might think you're entering a world of fuzzy pink gauze, soft teddy bears and garlands of ribbons–a land of sparkling brightness personified by women who are happy and smiling while they're battling disease, the "she-roes" (rhymes with heroes). For some, a cocoon of cotton candy somehow cushions this ferocious disease, making it seem nonthreatening, just another part of life's passage, like puberty or marriage or childbirth. Actually, there is not much in Cancerland that is pink or gauzy, and failing to recognize that is one of the many indignities of breast cancer.
Journey is often used to describe the breast cancer experience, a path with a beginning, middle, and end, after which a person is changed. The word seems completely and utterly inappropriate, inadequate to describe a process in which the course of treatment, despite advances in modern science, is still slash, poison, burn, or some combination thereof. To me, a journey is an excursion from one place to another, implying wonder or exploration, enchantment or romance. My breast cancer was not mystical, or enchanting or exotic. My breast cancer was not and is not a journey. Breast cancer is a disease. It's okay to treat it like one.
Sex. Cancerland is a place where, as the late Christopher Hitchens put it "there seems to be almost no talk of sex." With breast cancer, if there is any discussion at all, it is likely to be if you are of childbearing age and it is more likely to be about fertility than it is about sexuality. Yet the National Cancer Institute lists intimacy as one of the parts of your life that can be severely affected by a diagnosis of cancer. Your sex life, sort of like your taste buds, your energy level, and your hair, is affected by your treatment. As one of my doctors who actually did bring it up said, "It's like a muscle, you have to keep using it!"

Warrior. As a breast cancer patient I am deemed to be a warrior in an army made up entirely of conscripts. I have been pressed into battle, part of the "war against cancer." The language is inevitably military. Battle this disease. Defeat it. Kick the enemy's ass. We patients are front-line infantry. For those with breast cancer our insignia is the pink ribbon, and we must wear it proudly. But even conscripts in a regular army get some training. We, on the other hand? Who is going to help me with my battle plan, be my logistics team, or finance this war? I am not woman warrior. I am just a woman who has been diagnosed with a horrible disease.
Madhulika Sikka speaks my language. A Breast Cancer Alphabet is approachable, even light. But it's not fluffy. There are no pink unicorns or pretense that a spoonful of sugar helped the medicine go down. Madhulika Sikka's alphabet is a window into the real. It thoughtfully reflects upon a situation as it is, for her, in this historical moment. But what I love most about A Breast Cancer Alphabet is the space it opens up around language. Sikka's alphabetical musings share aspects of breast cancer that are often, unless you're in the right circles, unspoken. By giving them voice and situating them within the broader cultural context, she invites readers to think about the power and the limits of language and culture. In doing so, she encourages readers to think about their own alphabet(s).
What would your letters be? This one quickly comes to my mind.
R is for Realism: The attitude or practice of accepting a situation as it is and being prepared to deal with it accordingly.
I submitted this letter as a contribution to A Breast Cancer Alphabet's page on tumblr (a mini-blogging site that allows people to post text, photos, quotes, links, music, and videos.)
---
A Breast Cancer Alphabet may be pre-ordered here.
For readers who would like to submit their own letters to a breast cancer alphabet, they may do so here.