IF you go to the Greenpeace website, you can sign a letter that goes to President Biden and get more info. Here's the link to this action and a couple of others worth reviewing: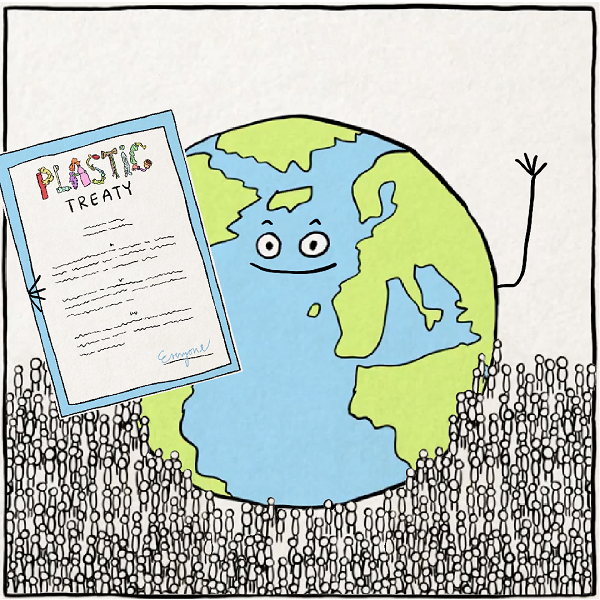 Congratulations! With your support, we won the first crucial step in the UN process for a Global Plastics Treaty!
Last week, governments at the United Nations Environmental Assembly (UNEA5) officially adopted a mandate to open negotiations for a binding global plastics treaty that will address the lifecycle of plastics with negotiations opening up later this year.
That's right. For the first time EVER, we have a mandate to start negotiating a legally binding global plastics treaty that incorporates ALL STAGES of the lifecycle of plastic pollution — from fossil fuel extraction to disposal.
This milestone is just the first step towards the adoption of a strong Global Plastics Treaty, but it's a momentous one! Before we get back to work, let's take a moment to celebrate and look back at the incredible things Greenpeace + PEOPLE POWER have accomplished over the past year fighting for a Global Plastics Treaty.
Last summer, to launch the first day of the international G7 Summit, Greenpeace USA brought a corporate-fueled 15-foot tall plastic monster to the steps of the White House to help deliver a bold message to President Biden: We want you to protect our planet and be a world leader on plastic pollution by endorsing the Global Plastics Treaty.
Just months later, with no word from the Biden administration, we knew we would need to top our monster to get the president's attention. That's why we brought a flaming dumpster to tour Washington D.C. to demand President Biden act on tackling our plastic crisis at home and endorse a Global Plastics Treaty NOW.
In November, thanks to help from more than 23,000 Greenpeace activists, we had our first US victory!
President Biden endorsed a Global Plastics Treaty. However, that's when we knew we really needed to get to work to ensure the Biden administration stepped up before UNEA to co-sponsor the Rwanda-Peru Resolution — an essential resolution that provides a roadmap to a meaningful treaty that will account for the entire lifecycle of plastic.
As the UN meetings got closer, our hard work paid off! After months of pushing the Biden administration to support the strongest treaty possible, the United States issued a statement in support of discussing a treaty that addresses the entire lifecycle of plastics at the upcoming UN Environmental Assembly meeting.
We followed up this win by partnering with the Break Free From Plastic coalition to deliver more than 67,000 signatures to the Biden administration in support of the United States endorsement of discussions of a Global Plastics Treaty addressing the full lifecycle of plastics before UNEA started on February 28.